Why Gordian?
Gordian helps charging point operators and logistics companies to simplify their planning capabilities for charging infrastructure. By doing this we accelerate the green and electric transition of the transport sector.
We have over 40 years of combined top university research in mobility data analytics and its applications to transport optimization. This is recognized by the Royal Swedish Academy of Engineering Sciences.​
The Gordian SaaS platform, a lightning-fast and easy-to-use analytics and optimization tool, allows the customer to work with their specific circumstances and data to find the most cost-effective and robust transport electrification alternatives.  With Gordian's analytic tools we can guide you in decisions about, for example, where to install charging stations, how many to install, and what types of charging stations to use.
The secret sauce of Gordian is a 50X lossless compression of indexed route data, enabling thousands of charging demand calculations per second. Giving the analytics speed and accuracy that by far outclass other alternatives. This is key to unparalleled planning quality and decision support.
The new uncertainties
As a charging point operator or a fleet operator, you need to make many investment decisions in an evolving competitive environment regarding the electrification of commercial transport.
New uncertainties arise as you need to consider new technology and cost trends, regulations and subsidies, real-estate and grid constraints, and costs, all of which affect charging infrastructure developments, vehicle adoptions, and use patterns.
Your company needs to find and assess location prospects and partnership opportunities quickly. And you need to be able to dynamically adjust your investment plans as the market and competition evolve. This is what we at Gordian can help you with.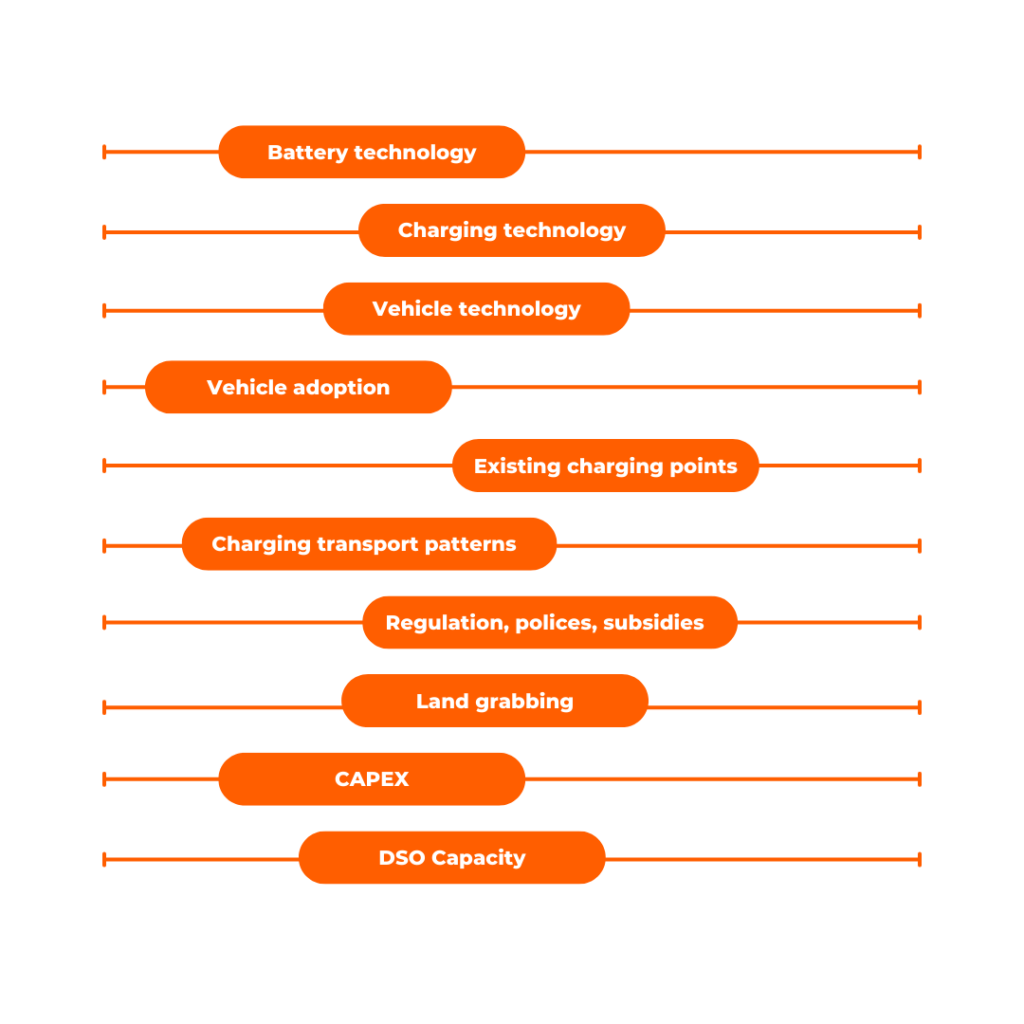 Why is 50X lossless and indexed important?
Simply put, it enables higher accuracy, higher relevance, and lightning-fast analytics. Through our technologies, we can support 2000 normalized expected demand calculations per second. ​This means for you that we can:​
Help you find optimal plans among an endless number of plans for given scenario assumptions.​
Provide interactive analytic tools that put you in control of fact-based / data-driven planning.​
Provide tools that reduce the risk in planning by evaluating/assessing user-defined or optimized plans against thousands of scenario assumptions. ​
Provide indications on how future-proof the planned investments gives the variability of the assumptions.​
Intelligence for charging infrastructure
We provide planning and decision support by combining advisory and a SaaS platform. Our optimization tool have been developed through cutting-edge research at one of Europe's leading technical universities and allows for a high level of customization. Customers can work with their specific circumstances and data to find the most cost-effective and future-proof transport electrification alternatives.
Previous research projects
Our technology is developing and deployed in these research projects:
Partners: KTH Royal Institute of Technology, Integrated Transport Research Lab, LTH & Vattenfall
Electrification, in particular Electric Road Systems (ERS) are viewed as a viable and necessary technology to meet Sweden's ambitious transport sustainability goals. The objective of the RENO project is to provide, in form of maps and statistics, novel and complementary decision support for- and knowledge about which parts of the road network to electrify to maximize the network's electrification utility given a set of freight routes (real or simulated).
Partners: The Swedish Innovation Agency (Vinnova), the Swedish Transport administration (Trafikverket) & KTH Royal Institute of Technology
Results of the RENO pre-study indicate that the route-based analysis of the true energy demand of transports is essential to find design parameters that maximize the benefit and minimize the cost of electrification.
Partners: KTH Royal Institute of Technology, Ellevio, PostNord, & Swedish Transport Administration
The TRACER project expects to accelerate the electrification of the heavy freight transport industry. The realization of the positive effects by deriving transport electrification scenarios that maximize the benefit and minimize the cost of electrification for all.
Partners: KTH Royal Institute of Technology, MIT & c3.ai DTI (Digital Transformation Institute)
Making traffic routing for commercial operators more sustainable by accounting for electromobility, operational costs, infrastructure condition deterioration, and environmental externalities.