Based on your companies specific needs we create location based report and a interactive map with the locations + different data points associated with the locations which allows you to exploration of results in geographical context and gain a deeper understanding.
The interactive map enables a deeper understanding of the report and the different charging points locations​. It allows exploration of results in a geographical context for a deeper understanding. Fixed customer-defined scenario and parameters and changeable analysis factor weighting.
Currently we offer the following reports:
Existing location ranking standard report
Potential partner analysis standard report
White spot analysis standard report
Customized report according to your needs
This includes a pre-meeting and the report (delivered as PDF).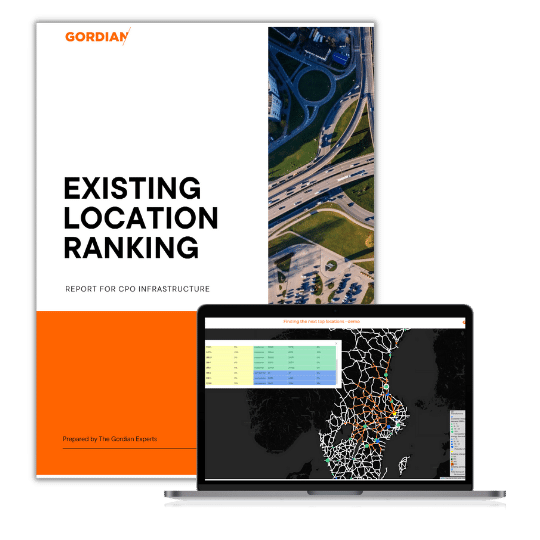 Process:
To decide the scope of the report, we start with digital meeting.
Purpose with the report.
Data and other parameters needed.
The Gordian team creates a brief of the report and estimated cost for the report.
The customer confirm the brief and cost.
The customer delivers the external data.
Our team of experts imports the data into the Gordian analytics tool to create the report and the interactive map.
The estimated time for delivery is between 2-3 weeks. The exact date depends on the delivery of the needed input data.
Example of additional data:
Location of your locations properties with address, geodata, and additional information linked to properties such as area, facilities, vehicle parking, and charging capacities.